Don't know what to make of it right now anglers, Crowley has had some good consistent high pressure days in a row, fantastic bug hatch with chironomids everywhere on the lake and some the size of small birds but yet the bigs are still not coming out to play. Callibaetis have been showing up some days in numbers and the Damsels are starting to show up in numbers also.
Water is a high as I have ever seen and the clarity is phenomenal, maybe even too good with being able to see your anchor rope well into the 12 foots depths. We have now also seen the beginning of the algae bloom, not bad, just in the beading stage, but well on its way. To even make things worse, we have been throat sampling fish that have been eating daphnia.
Pheasant tails are perfect Callibaetis imitations
The bigs are almost nowhere to be found right now, you can have all the smaller fish you want in Beaver, Little Hilton and Big Hilton. If you want to fish in Whiskey (The Crowley Marina) you can also get a ton a takedowns fishing the just recently stocked fish, browns and bows.
McGee Bay channel in 7 to 10 feet of water can bring on some big fish for a short, short period of time but just as fast as they come in they disappear. We are having to do a lot of hunting around, moving from one area to another to get into small spurts of fish, then move again. We are finding fish sometimes in 10 feet or less, then moving out into water up to 25 feet and finding fish for a short period of time.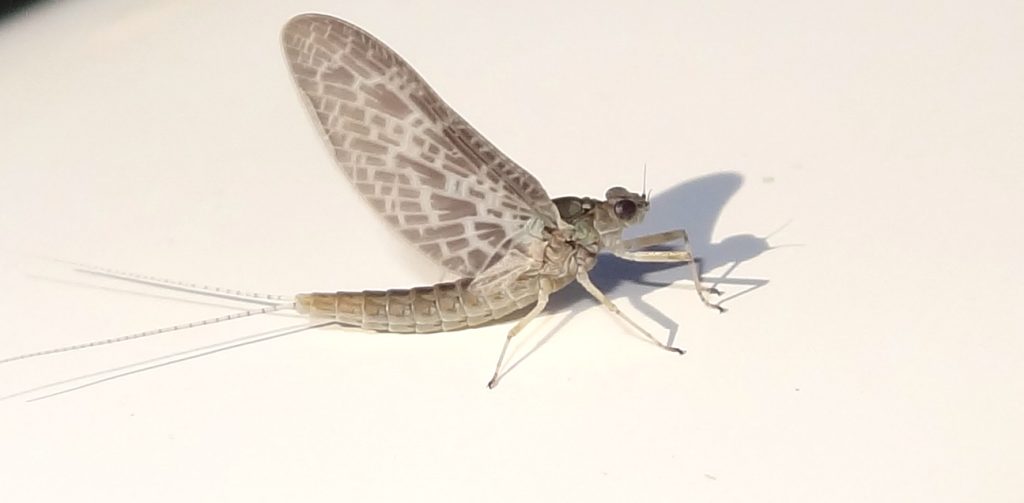 I had one of the best anglers I could have on my boat this weekend, Patricia Walden and she managed 13 trout on Saturday half day and 10 trout on Sunday half day trips. We fished everywhere looking for quality fish and only found one brown at 18″ and a beautiful cutty of over 22″ was her best fish.
I have spent over 60 gallons of gas (close to $300.00), searching, looking, probing, trying to find fish all over Crowley. The bottom line is everywhere I search I find a lot of fish, big fish, being metered on the bottom and up in the water column all over the lake. We even have mornings well into 11am where fish are all over the surface of the lake, taking midges and callibaetis off the surface and I have fished 20 foot 5x leaders and one fly and haven't been able to get them onto my fly rod.
Fly of the weekend, Tom Loe's Black Assassin as the upper and lower fly followed again by my Zebra Midge.
The lake is like a big pimple right now I think, just waiting to explode and when it does, we are going to start catching big fish and big numbers of fish. Its just a waiting game right now but shouldn't be much longer anglers.
Since the water is so clear, I have done something I haven't done in years, fish tippet smaller than 3x, I have now been fishing Cortlands Top Secret 5x and its as thin regular 5x but breaks more on the high end of 4x and its super strong. Also the second thing i haven't done in years is fish smaller midges, in the size #16 range to try to get more grabs. These two things are important because the fish have such water clarity, they can really zone in and make a slow decision before they grab. Tie those midges as thin as you can to make them look like the real bug!
Weather looks again like a good high barometer for the next week or so, lets keep are fingers crossed and wait for the explosion coming from Crowley!
Some good news is I have a podcast about Crowley, Chironomids and all Stillwater that you can listen to with lots of tactics that can be used on Crowley and other Stillwaters. Go into the Reno Fly Shop podcast and click on my informative show.
Lets all be safe out on the water and be kind to our fellow anglers. Lets try to give everyone enough room out there to enjoy there Stillwater experience.
I do love me some "Stillwater" fly fishing…..Ernie